Accommodation Accreditation
---
LISTINGS GUIDE


HOTEL
Generally the larger of accommodation types with on-site facilities and a wide range of guest services. An establishment providing a full formal service for guests.
GUEST ACCOMMODATION
From cosy guest houses and stylish Inns to modern serviced apartment style accommodation. Majority will provide breakfast and some offer evening meals in an onsite pub or licenced bar. Some will provide pre ordered meals or even a packed lunch to take on your island adventurers.
SELF-CATERING
From historic forts to stylish houses these properties are perfect for families or friends wanting to explore Alderney on their own timescale. Guests have exclusive use of these fully equipped properties providing the perfect base for your island discovery.
HOSTEL
Establishments providing dormitory style bedrooms with shared bathrooms and kitchen facilities.
PRICE GUIDE
Hotels and Guest Houses, per room per night (prpn) or per person per night (pppn)
Self-catering, per unit per week (Unless otherwise stated)


QUALITY ASSURED
The States of Alderney run a permit scheme to help you choose with confidence. All accommodation listed has been inspected and assessed
by an appointed Accommodation Inspector. Establishments must display a valid accommodation permit and may choose to also display the Quality Assured logo.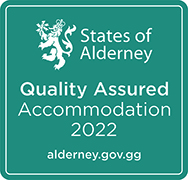 QTI STAR RATING
Alderney runs a voluntary star rating scheme alongside the States of Alderney Quality Assured scheme.
Each property is assessed by Quality in Tourism within the above categories. These standards can be viewed at: qualityintourism.com quality-schemes.
Here's a rough guide to the experience you could reasonably expect:
1 star - Simple, clean, comfortable – but no frills
2 star - Well-presented and well run
3 star - Good levels of quality and comfort
4 star - Excellent standards in all areas
5 star - Exceptional throughout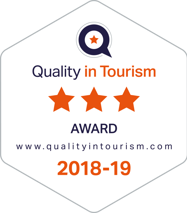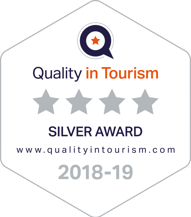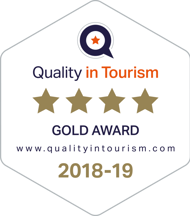 IMPORTANT INFORMATION:
At the time of booking please check your establishment's cancellation policy and if there are any extra charges for amenities. We recommend that appropriate holiday insurance be taken out to guard against such cancellation.


LIABILITY OF THE STATES
The States of Alderney accepts no responsibility for any dispute(s) arising between any individual(s) and the proprietor(s) of any establishment, whether arising directly or indirectly from any contract or engagement being entered into as a result of particulars given in this, or any other publication of the States.
COMMENDATIONS AND COMMENTS
Commendations and suggestions are welcomed. Complaints should be made in the first instance to the management. If satisfaction does not result, visitors, if they so desire, may call on the Accommodation Inspector, care of the States of Alderney, before leaving the island, as complaints lodged after the visitor has left Alderney cannot be dealt with satisfactorily.


Get our latest news and offers