Alderney is where Christmas gets back its sparkle.
Leave behind the hackneyed pop songs, jam-packed shopping malls and endless exhortations to buy, buy, buy.
In Alderney you can relax amid the simple peace and joy of a traditional Christmas – and yes, we celebrate it in December not mid October.
Christmas in Victoria Street
Christmas suits Victoria Street. 
Ropes of simple coloured globes glow warmly in the dark, picking out the rustic cobbles and pretty Victorian shop fronts. It's a scene that could easily come straight from a Christmas card.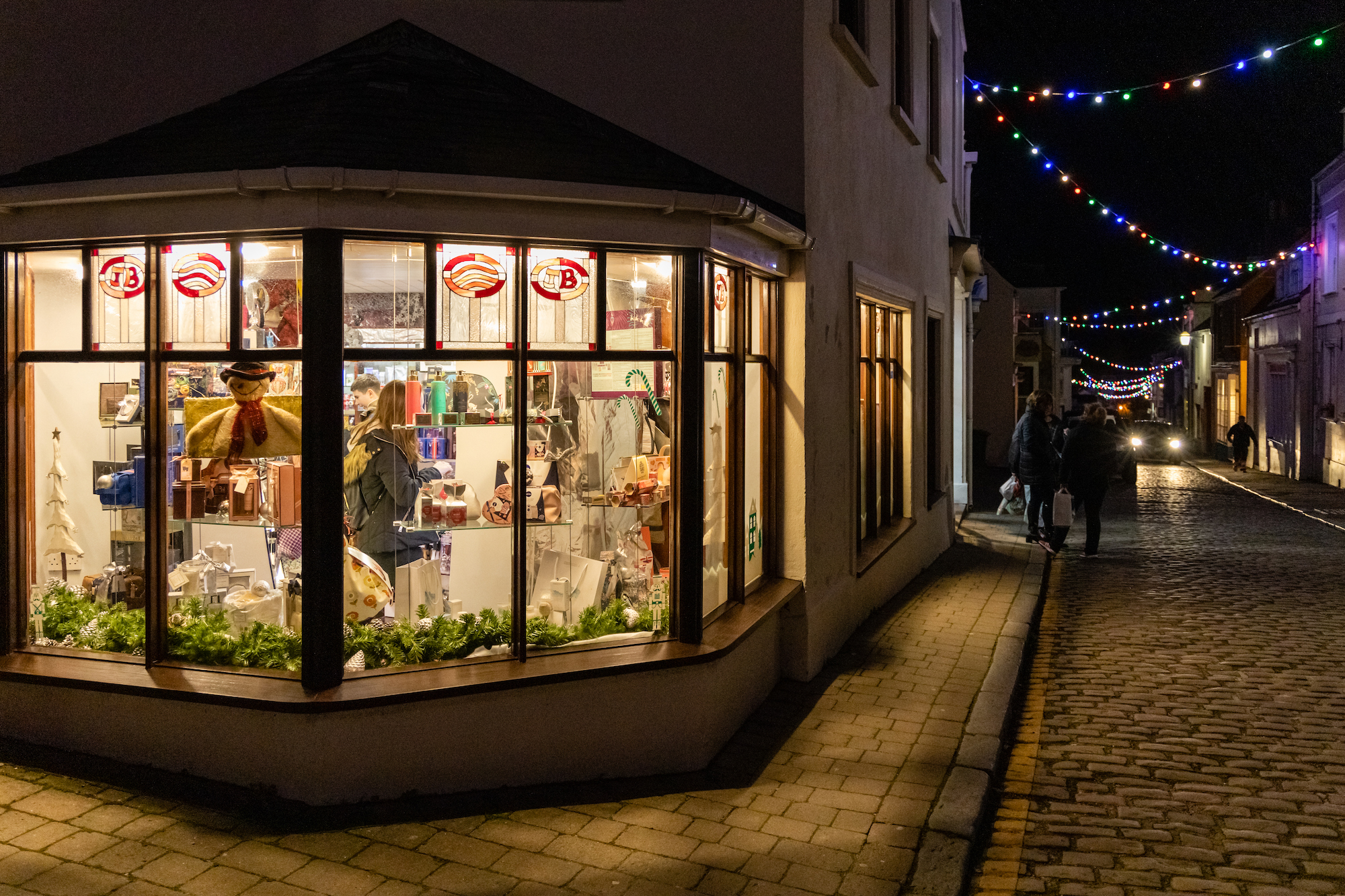 Christmas shopping on Alderney is a singular affair. With normal closing times on the island varying from 3 - 5.30pm, late night opening is a treat. All of Alderney's shops are small and independent, and home cooked nibbles, low key festive tunes and glasses of wine make present buying a pleasure.  Each shop, from the wool seller to the florists, offers its own distinctive Christmas window - which in their own off-beat way  rivals Selfridges any day.
Oxford Street it isn't but there's no shortage of choice. From home grown honey, hand crafted chocolates and objects d'art fashioned from pallets and driftwood, to fine jewelry and quality clothing, there's a wealth of gifts on offer.
Restaurants roll out Christmas menus which showcase home grown meat and vegetables while pubs and hotels offer a crackling fire and glass of something hot and spicy, and rarely get too noisy.
That's not to say Alderney is lacking in Christmas entertainment...
Festive Events
What makes Christmas entertainment special on Alderney is that everything is staged by local talent groups, charities, interest societies and churches. By the time you've been here a few days you're bound to spot a few familiar faces in the line up.
In the run up to the big day there's usually at least one Christmas concert staged by the local brass band and choir, plus carol services at the local churches including the ever popular Christingle at picturesque St Anne's Church.
Santa makes an appearance on Victoria Street to hand out a gift for every child on the island and all pensioners enjoy a lavish Christmas feast and entertainment.
Many enthusiast-run historic railways stage 'Christmas specials' but Alderney's 'Santa Special' is something a little more unique. Here you can join Santa and his helpers on the only railway operating in the Channel Island's, with its two 1959 London Northern Line Tube cars pulled and pushed by diesel locomotive "Elizabeth".
Various Christmas fayres are held in December including the annual RNLI bash at the Island Hall, the Made in Alderney Christmas market and St Anne's School's seasonal fayre.
Boxing Day to New Year
On Boxing Day you'll most likely be ready to get outdoors and walk off some of all that lovely food. And there's no better place to do it than amid some of the Channel Islands' most stunning scenery.  Alderney Wildlife Trust's annual Boxing Day Walk takes residents and visitors to seldom seen parts of the island, spots that have recently been opened to the public or been the focus of rejuvenation and historic sites.  The walk finishes with mulled wine and delicious home made mince pies courtesy of Ingrid, owner of St Anne's Guesthouse.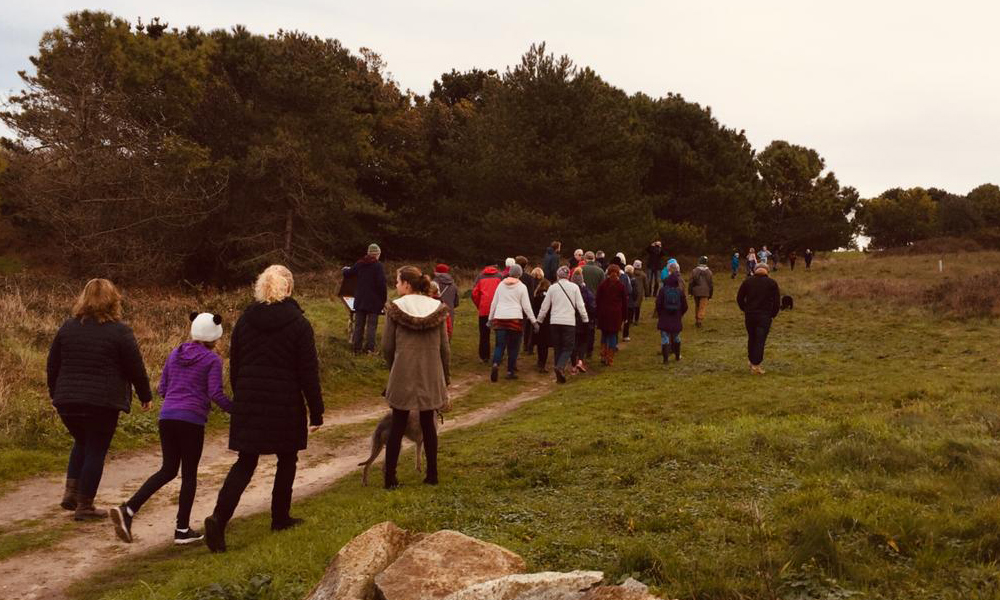 New Year's Day heralds two events certain to shake off any lingering effects from the night before (It may be worth mentioning pubs are traditionally permitted to stay open until morning on New Year's Eve in Alderney). At around 11am  Alderney's volunteer fire service stage the annual 'squirt and dip' at Marais Square – a historic event aimed to test out fire fighting equipment. The tradition continues to this day when firefighters arrive with sirens blazing at Marais Square and squirt any child – or adult! - who dares to comes near. The really brave also risk being 'dipped' in the water at the Marais Square trough.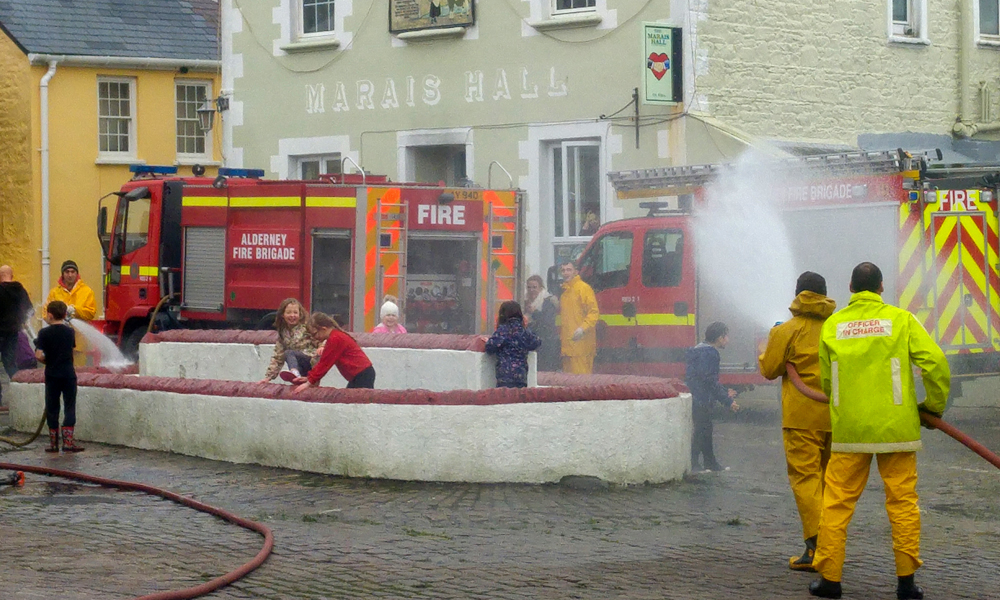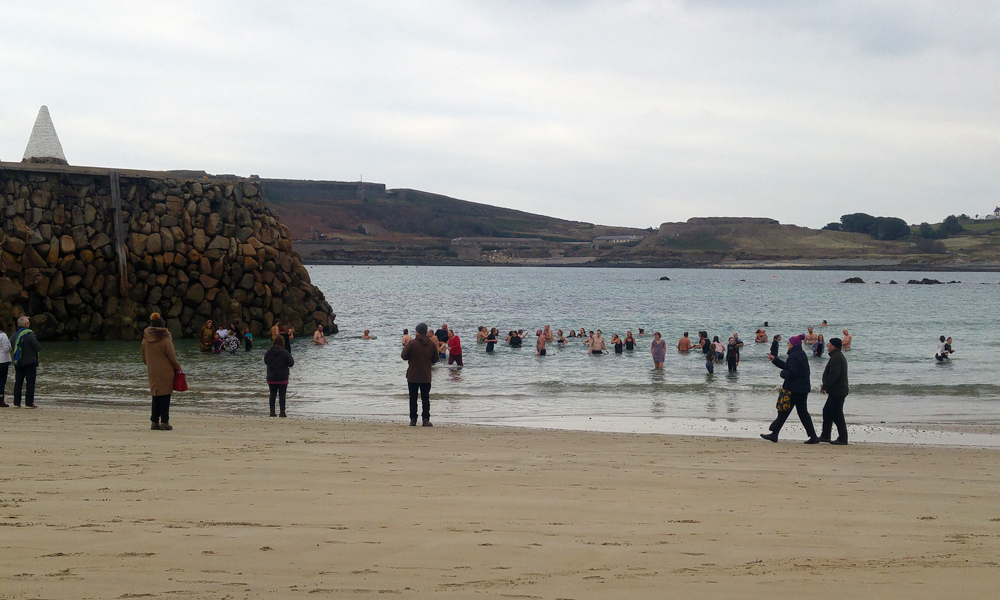 Midday brings the bracing New Year's swim at Braye Beach. OK, it's not exactly tropical out there on January 1st,  but as the cheerful crowd of people who take part prove, it's oodles of fun. It is, of course, swiftly followed up by reviving drinks at nearby hostelries.
You'll have a merrier Christmas on Alderney!



---