Meet the Puffins of Burhou
Age, hardship, an empty nest, and long lonely months apart can rub away the bonds of  the most faithful of loving partnerships. But not for these charismatic couples, whose lives together must rate as some of the most romantic on the planet. And they live, (where else?) but on Alderney.
Each spring, 1.4 miles north east of the island on a rocky archipelago called Burhou, around 100 pairs of Atlantic Puffin reunite after nine months at sea in scenes that would melt even the most hardest of hardened hearts. Atlantic Puffins, who can live for up to 20 years, mate for life. The couple will have met and courted at sea. When they reunite, in anticipation of the moment they clap their eyes on their mate, each arrives looking drop dead gorgeous.
At around 26cm in height their bodies are small and stocky and for most year they are clad in a drab gray. But from spring their bodies darken and brighten to a costume of striking black and white. Their beaks begin to glow with stripes of red, yellow and black. Their eyes become kholed, taking on a winningly beseeching tilt. Each pair is fiercely loyal to each other, and to their burrow. They will try to return to the same familiar home every year. There they will raise a single puffling, until it fledges, with a clumsy, headlong dash to the relative safety of the sea.
But there are many challenges to the survival of each new generation. Pollution, dwindling fish stocks and extreme weather variation all pose a threat. Between 2012 and 2017 the island's puffin population declined, with the lowest count of the bird being 58 individuals of breeding age in 2014. Happily, the population has rallied in recent years and helping them survive is the Alderney Wildlife Trust. Their numbers are carefully monitored and the site is scrupulously protected during breeding season. Landing on Burhou during this period is prohibited and a 'puffin friendly zone' was established in 2018 by the Alderney Wildlife Trust in collaboration with the States of Alderney, the Alderney Marine Management Forum, Alderney Harbour Office and local fishermen to reduce disturbance of seabirds in the area during that sensitive time.
However, that's not to say that visitors can't enjoy these mesmerising little birds during during romantic sojourn to Alderney. Boat tours are available during the season. Visit the Visitor Information Centre for details.
You can also watch them live online thanks to a series of webcams that the Alderney Wildlife Trust have installed on Burhou. It's a project that has elicited some seriously fascinating footage and uncovered new information about their lives on the small island. So if you fancy getting swept away on a tide of romance, learn from the puffins and visit Alderney. You won't be disappointed.
www.teachingthroughnature.co.uk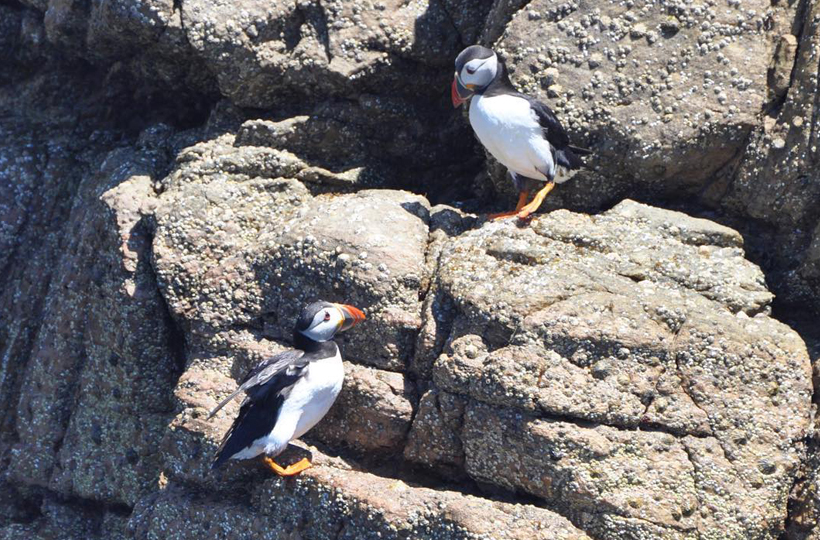 ---