Top 5 things to do in Alderney this spring
With no crowds, no queues and no traffic jams, Alderney provides a welcome escape from your busy schedule, whatever the time of year.
But not everyone who visits the island just wants to switch off. If you prefer your holidays jam-packed with events and things to do, then visiting during spring is a great idea.
In this article, we highlight five unique things for visitors to do on a spring visit.
1. See the Puffin & Gannet Colonies
Spring is the most exciting season in Alderney's wildlife calendar. Every February around 11,000 northern Gannets converge on the vertiginous sea stacks of Les Etacs and Ortac to breed.
The gannets claim every square inch of their inhospitable-looking breeding spot of choice, filling their air around them with chatter and the flap of powerful wings. The best place to see the colony from land is from the south cliffs. A picturesque stroll from St Anne, past the airport and the pigs, will take you to the viewing point, which is equipped with a telescope. For an experience that socks it to all the senses, nothing beats a boat trip out to Les Etacs where you will see, hear, smell and all but touch these incredible birds as they go about their daily business.
In March around 100 pairs of Atlantic puffins return to claim their burrows on the tiny island of Burhou.
What puffins lack in size they more than make up for in character. You can only view them from the sea, so jump on a boat trip you'll soon see why these charismatic little birds have become the unofficial emblem of Alderney.
Boats taking puffin and gannet tours depart from Braye Harbour daily from April onwards. For more details and how to book visit our sightseeing tours page.

2. Discover nature on our stunning hiking trails.
Whether you're an ambler, rambler, runner or speed walker, pulling on your trainers and hitting the Island's plentiful paths and trails is the best way to savour spring here.
Bluebells carpet the woodland, snowy drifts of blossom dress the hawthorn and yellow gorse bursts into bloom on the cliffs, perfuming the air with the sweet scent of coconut.
Spring brings great sweeps of migrating birds to Alderney. Walking along sunny South Cliffs coastal path or through the leafy Bonterre, every hedge and tree seems alive with song. Swallows and skylarks warble overhead in the soft blue sky. It's pure therapy for the stresses and strains of daily life.
Discover and download our trail maps by visiting our walks and trails page.
3. Meet the island's favourite blondes!
Alderney's beautiful blonde hedgehogs emerge from hibernation in spring. Thanks to healthy habitats, a low volume of traffic and a protective local attitude towards these endearing little animals, numbers are buoyant. After dusk they're a familiar sight snuffling out and about on Alderney.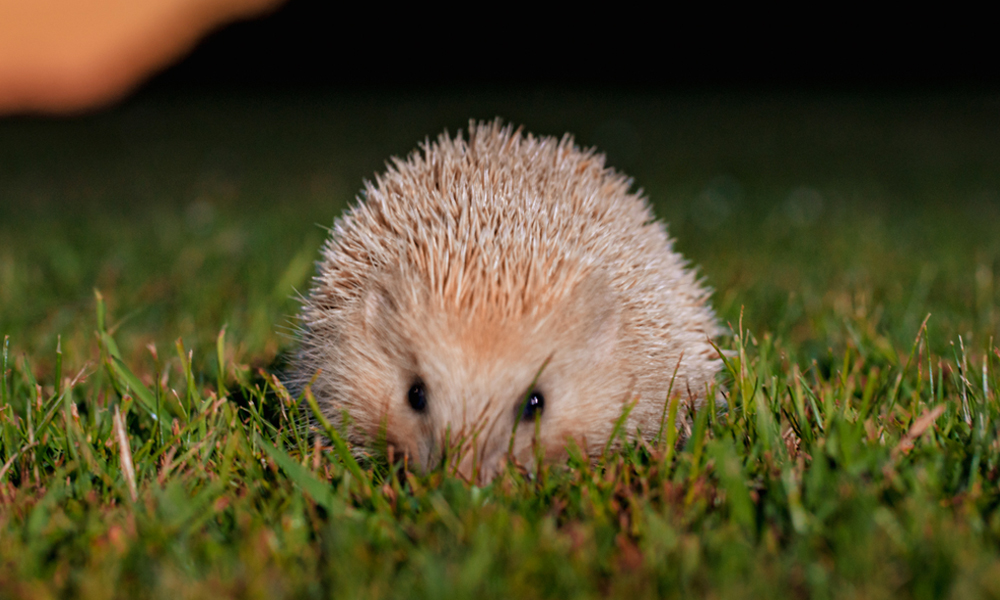 Legend has it that four blonde hedgehogs – properly blond rather than albino with currant black eyes – arrived on Alderney as pets, having been purchased from Harrods. They escaped or were released, and went on to thrive in the wild. Our blonde hedgehogs hold the distinction of being completely free of fleas – and having a hotel named after them!
With so many rustic stone dwellings and insect-rich habitats, Alderney also has a thriving bat population that comes out of hibernation in spring.
If you're interested in blonde hedgehog and bat spotting during your trip visit our sightseeing tours page.

4. Have fun at a festival
Explore History through factual and fiction writing
The Alderney Literary Festival is the Channel Island's boutique history festival, where people who enjoy reading and writing about the past come together to talk books and have a great weekend.
​The Festival takes place over a weekend every March in the historic Island Hall, Alderney's seat of government, built in 1763. The audiences are kept small to create an intimate and friendly feel to this 'salon' style gathering of historians, biographers, novelists, and fans of historical literature.
​In the Festival, history is explored through factual and fiction writing: biographies, thrillers and crime stories, the fantastical and the supernatural, romance, adventure, warfare and political analysis, and even poetry. Guest authors are asked to throw new light on old events and reinterpret them anew to make history relevant in the present time.
The Literary Festival will take place from the 17th - 19th March 2023.
Get involved with Wildlife Week
If meeting Alderney's wildlife is top of your itinerary, then you should visit during Wildlife Week.
Wildlife Week is the island's annual weeklong festival dedicated to all things wild. Through a schedule of daily events, the Alderney Wildlife Trust encourage guests to explore the island's incredibly diverse natural history – from puffins and gannets to moths and more wildflowers than you've ever seen.
Wildlife Week will take place from 29th May - 4th June.
Take on the Coastal Race
Trail running has boomed since the pandemic. If you've got the running bug and are looking for a friendly race with incredible scenery, then the Alderney Coastal Path Race is the one for you.
Experience Alderney's floral excellence during Bloomin' Alderney
Bloomin' Alderney is the island's annual flower festival where more than 30 privately-owned gardens open their doors to curious visitors for one week only.
The 2023 festival will take place from 5th - 11th June. Details of the schedule and garden opening times will be published from 2nd June.
Go for gold on Alderney's spectacular golf course
The pace of life may be a little slower on Alderney, but that doesn't mean we don't love our sport.
Each year in May, an international field of golfers descends on the island for the Men's and Ladies' Open Golf tournaments.
Alderney's golf course is a challenging 9 hole course, blessed with some of the most spectacular views in the British Isles. Natural hazards and unpredictable winds will test the skills of even the most accomplished golfers.
If you think you've got what it takes to give the locals a run for their money, the 2023 Men's Open is scheduled for the 2nd - 4th June, with the ladies event taking place the weekend after on 9th -11th June.
Bring your clubs and stay for the week.
Find out more about Alderney's upcoming festivals on our events page.
5. Book a train trip
No visit to Alderney is complete without a ride on our fabulous train.
You may have been on dreary intercity trips, congested Tube rides, maybe one of those dinky little tourist trains. Alderney's train – the only working railway in the Channel Islands - is something different.
The island's railway was built for transporting granite from Mannez Quarry to the Breakwater construction site in the 1800s. These days the conveyance is a jaunty locomotive pulling a pair of 1950s Northern and Jubilee London Underground carriages. From these, rather than blackened tunnel walls, passengers look out on sparkling sea views and a lighthouse to A miniature railway has now been completed at Mannez so step aboard for a scenic spin while you're waiting for your return train. Top tip: The train and station at Braye are endlessly photogenic so make sure your cameras are fully charged before setting out!
Trains run every Saturday afternoon from May and an adult return ticket costs £6. A go on the Miniature Train is £1.
For more information visit our Alderney Railway & Miniature Railway pages.
---