For a picture perfect wedding as unique as you are - choose Alderney!
Fringed by stunning white sand beaches, sparkling bays and a fort-studded coast, Alderney offers a boundless choice of backdrops for your big day.
The Marriage Law has recently been changed to give couples the freedom to tie the knot almost anywhere they choose (with permission), on the island, on land, in the air or at sea.  
Say 'I do' at the altar, keep it short and sweet at the registrar office or celebrate with sand between your toes or waves under your bow. On Alderney your wedding can be as unique as you are.
The island also lends itself to a deliciously different after-party. Sip bubbly at Braye or bumping along in a Tube carriage; munch wedding cake in a beer garden, quarry or a bunker. The friendly locals and their businesses will always go the extra mile to make it the wedding you dreamed of.
In keeping with Alderney's laid-back vibe, the legal process is straightforward and there's plenty of help on hand to guide couples along the way.  Same sex marriages are also very welcome.
For your very special day, a special place on our island is waiting.
How to do it
The first step is choosing between a church or civil ceremony. Civil ceremonies can be solemnised by a authorised Civil Celebrant, anywhere on the Island, or by the registrar at the Courthouse.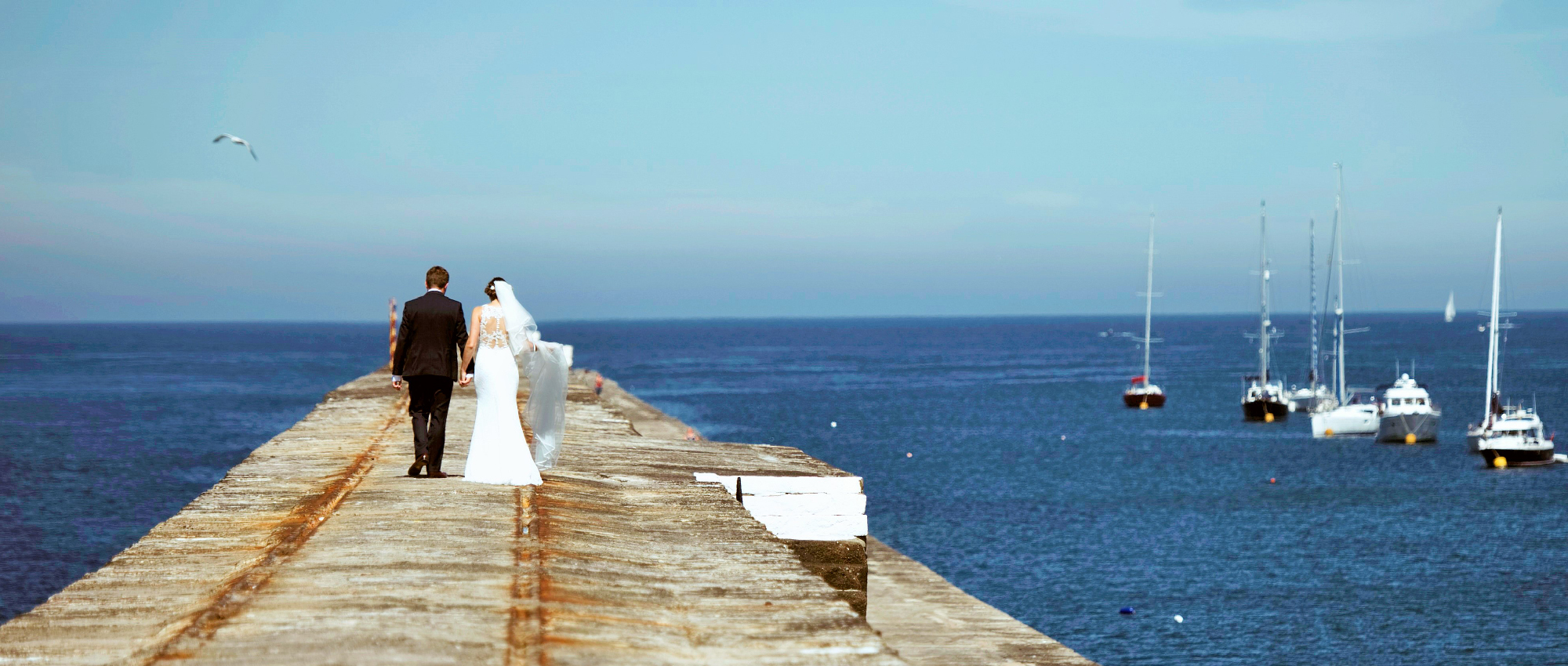 Civil Ceremonies
A register office wedding will be a short, standardised ceremony within office hours conducted by the Deputy Registrar. The first step is to contact the Court Office on 01481 820050 or email court@alderney.gov.gg to check availability for the time and date and make a reservation.
Alternatively, you can work with an authorised Civil Celebrant, who can personalise your vows and help organise the venue and logistics of the big day. They can solemnise your wedding anywhere on the island (providing you have the property or landowner's permission). Authorised Civil Celebrants are self employed and follow a Code of Conduct. 
To meet legal requirements, notice of any wedding has to be posted to the Royal Court of Guernsey a minimum of 21 clear days before the date. 
To get the ball rolling, you will have to fill out a marriage application form minimum 6 weeks before the wedding day. If accepted notice of Marriage will be submitted to the Royal Court of Guernsey website. You will also need to book an interview with the Greffier to have identification documents verified at least a day before the wedding.
If you solemnise your wedding with a Authorised Civil Celebrant the process will be very similar but you will arrange the date and venue with them.
Go to courtofalderney.gg for a list of authorised celebrants.
Church Weddings
There are now no residency requirements for getting married in church on Alderney. Before getting married notice needs to be given to the Ecclesiastical Court of Guernsey. They will also post notice on the Royal Court of Guernsey website. The first port of call if you're thinking about an Anglican church wedding is the parish rector. Couples who wish to get married in St Anne's Church should contact the Revd Jan Fowler for a chat about the process and to discuss dates on 01481 824866 or at vicarageonalderney@gmail.com.
For more information about getting married in the Deanery of Guernsey visit www.guernseyprobate.gg/marriage-licences
If you want a religious ceremony other than a Church of England service you will need to discuss arrangements with the religious organisation and submit a notice of marriage as outlined above.
All you need to know about getting married in the Bailiwick of Guernsey, including application forms, can be found at guernseyroyalcourt.gg
For more information on getting married on Alderney visit: www.courtofalderney.gg
Download our Short Guide to the Civil Marriage Service here
---