Eating Outdoors in Alderney
There's really nothing to beat eating al fresco on a sunny day in Alderney.
Drinking in a stunning view, savouring wholesome local produce and relaxing in the peace and purity of Alderney's great outdoors is a simple recipe that never gets old. From rustic picnics and chippy teas to fine dining, there's a feast of outdoor eating on offer to cater for all tastes and every day of the week. So dive in!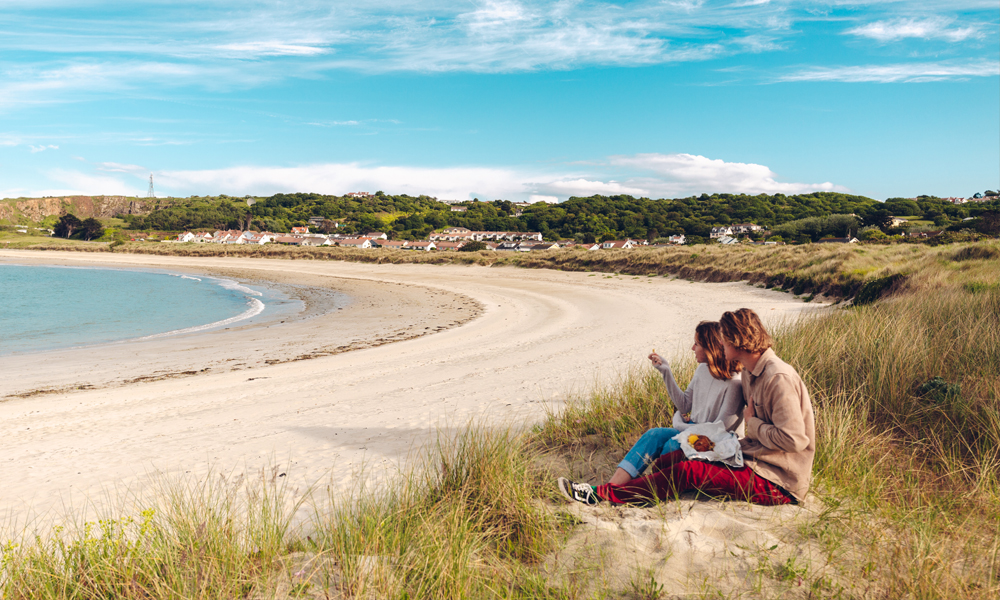 Food, fresh air and a view of the sea.
Feast your eyes on the white sand and azure waves of Braye Bay while enjoying a stop at one of the tasty eateries along Braye Street – all of which offer outdoor seating.
Braye Street boasts a range of restaurants offering a mouthwatering range of flavours, from classic brasserie to Mediterranean tapas to fish and al forno pizza - perfect for popping into after a sunbaked day at the beach. You can eat locally caught fish, homegrown leaves and the Island's famous free range beef and butter – delicious goodness-packed fare that Islanders are justifiably proud of.
Nearby you can munch on fish and chips to the clink of halliards and the cry of gulls at Braye Chippy or enjoy brunch cooked to order in front of you at the kiosk close to the Breakwater.
Out at the smaller, wilder curves of Saye and Arch, head to Saye Campsite which offers rustic outdoor picnic benches and serves up sandwiches, cake and ice creams.


Picnic Tables
For almost every pretty view on Alderney there's a handy picnic table placed close by.
There are around 16 rustic tables and benches dotted around the island, so you will always find somewhere to spread out your picnic while  on a walk or after a swim.
There's no shortage of Alderney goodies to take with you. You can find home baked bread, pies, cakes and snacks on sale in shops on Victoria Street, at the Saturday morning market and 'hedge veg' stalls outside houses and most guest houses and cafes will prepare a takeaway lunch on request.
You can find picnic tables overlooking Fort Raz at Longis, on the path to Clonque, on Braye Common and overlooking Arch Bay among others.
Beach Barbecues
There's nothing like a barbecue on the beach for making you feel blissfully at one with the world. Who can resist the scent of sizzling free range local sausages or a hunk of Kiln Farm beef cooking on the coals outside?
On Alderney you can have a barbecue on any beach before 8pm, with the exception of Saye and Arch during July and August. If you want one after 8pm head to Island Hall to get a licence from the States.
Afternoon Tea
Alderney excels at homemade cakes, lovingly made with local cream and butter.  For an indulgent outdoor afternoon treat, head to a hostelry offering a pot of tea and a wedge of something naughty outside. Gaze out over a glittering stretch of Braye on the deck of the Sailing Club or up in the town take a break in the shelter of a pub or guesthouse garden surrounded by fragrant flowers and the lazy hum of bees.
---