6 reasons why you should make a midweek visit to Alderney
Whatever the season, whatever the day, Alderney provides an island escape like no other in the British Isles. And while there's always a buzz on summer weekends, if you're looking for peace and quiet you should visit during the week - Monday to Thursday. 
In this article we look at seven reasons why being flexible and visiting Alderney during the week might be a better option for you!
Get the pick of the flights
Midweek visitors to Alderney can expect to get their first choice flight times. With two direct flights a day from Southampton and five a day from Guernsey, you'll be able to find the flights that best suit you and your budget.
The flight time from Southampton is just 40 minutes. Watch the pilot at work, enjoy your own window seat and the breathtaking views as you come in to land.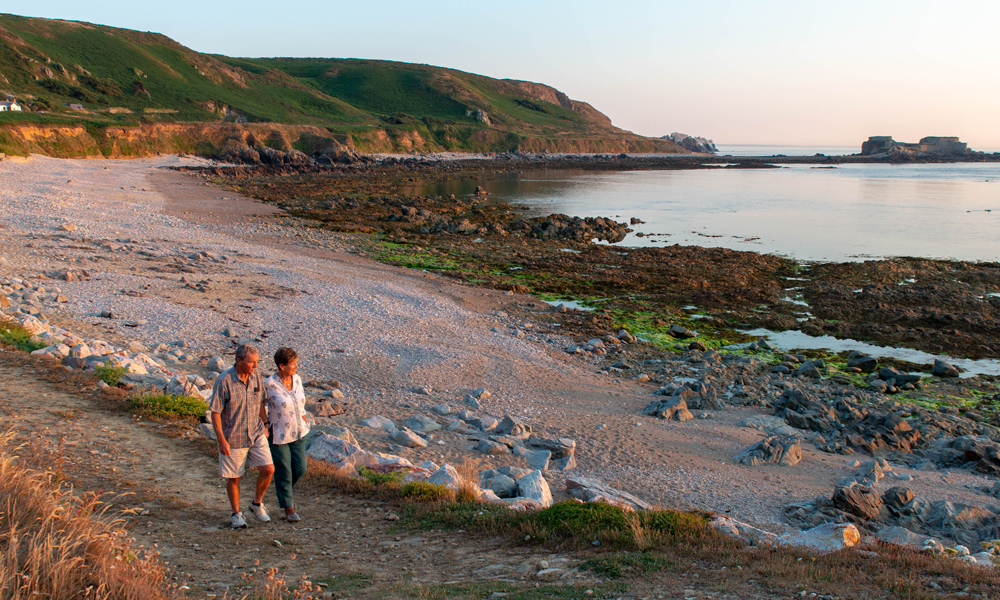 Just a 40-minute flight from Southampton and you could be strolling along Clonque Bay at sunset.
Top tip: flight prices on Aurigny vary depending on demand. If you're not set on when you want to visit, tick 'I'm flexible with my dates' when searching for flights and you'll see when the lowest prices are available.
Get your first choice accommodation
After two seasons of disruption to weddings, family reunions and celebrations, accommodation on the island is nearly full on weekends throughout the summer months.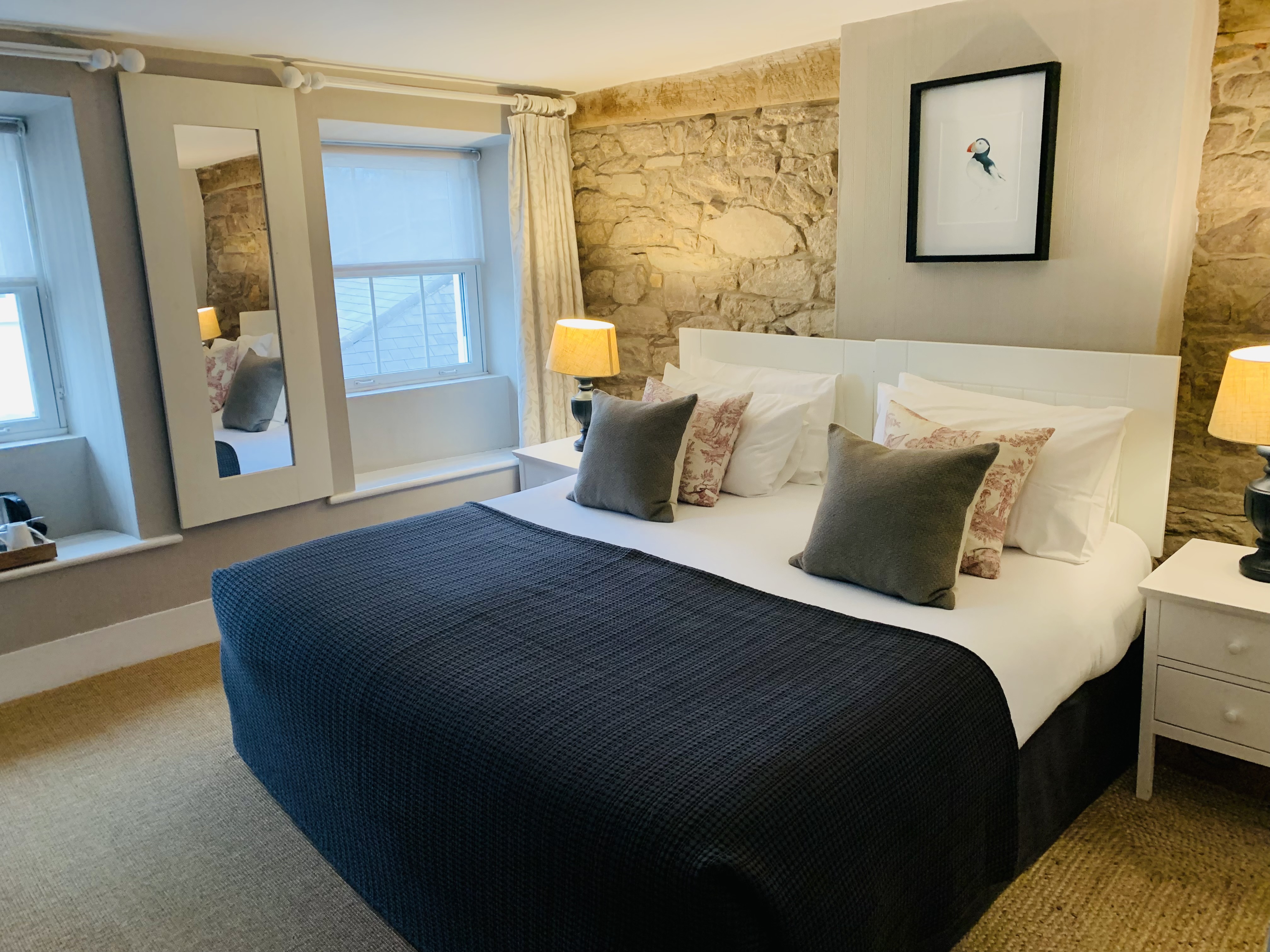 The stunningly presented rooms at The Georgian House are just one of more than 40 accommodation options in Alderney
But the same isn't true from Monday to Thursday. If you can plan a visit during these days, you can expect to get your first choice of hotel, villa, townhouse, campsite or guest house. 
Top tip: keep a lookout on our deals page for midweek accommodation offers.
Feel part of the community
Alderney's population may be small, but our community spirit is strong! The island is home to many thriving clubs, groups and societies, all of which are happy to welcome visitors to their weekday meetings.
Craft enthusiasts should head along to Needles and Pins on Thursday mornings at the Georgian House in St Anne. This friendly group of local knitters, crocheters and quilters meet every week to work on their pieces while chatting about everything Alderney. 
If you prefer your activities a little more energetic, join the Wildlife Trust's Eco Friendly Blonde Hedgehog & Bat Walk. This an hour and a half night walk explores our iconic animals' natural habitats at dusk. It's a great way to explore the island with the help of a little local knowledge.
Another place where the locals might bowl you over is … The Bowls Club (sorry!). Visitors are welcome to join members on the bowling greens. All equipment can be hired - just bring some flat shoes and have a go!
Learn more about what's on during the week here.
Forget tee times at the golf course
There aren't many better ways to relax than a round of picturesque mid-week golf on Alderney's stunning 9-hole course.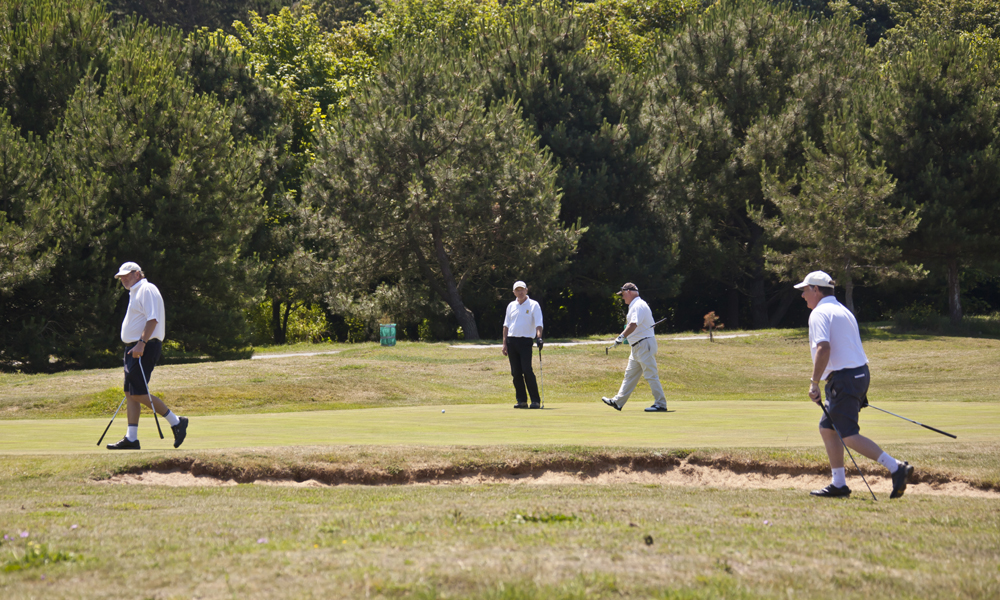 Alderney's 9-hole course offers an unforgettable experience, surrounded by Victorian fortresses and a panoramic view of the English Channel and white sandy beaches.
Unlike most courses around the UK, during the week you won't need to book a tee time. Just turn up when you fancy it, or when the weather looks best. And there's never anyone breathing down your neck if you prefer a few extra practice swings.
Have a quiet moment with our unique wildlife
Alderney's unique wildlife makes it a truly fascinating place to visit, whatever day of the week.
It's not uncommon for visitors to spot a beautiful Glanville Fritillary butterfly, a seal bobbing in the water, a pod of dolphins and an Alderney blonde hedgehog all in the same day.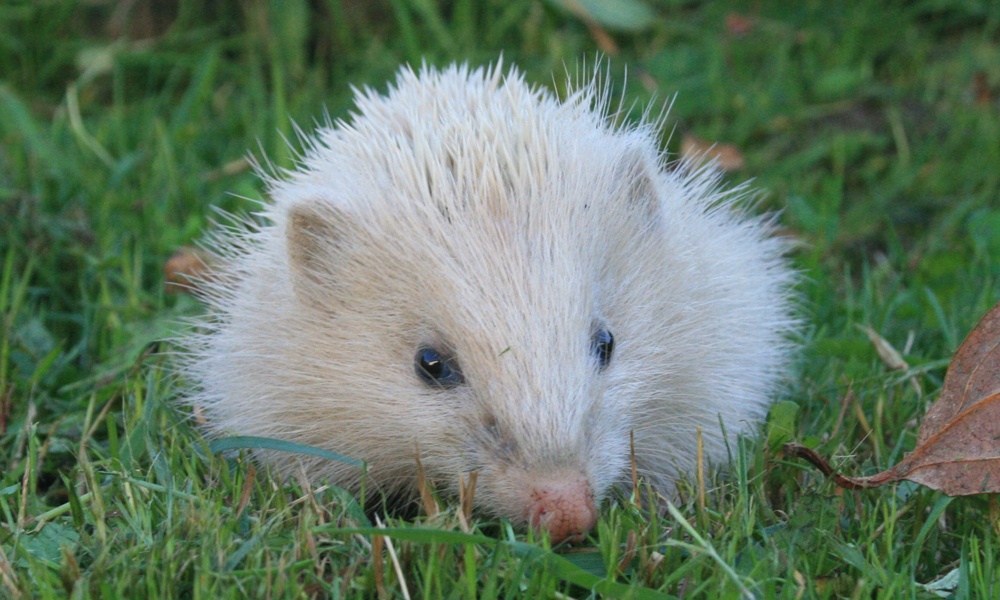 The iconic Alderney Blonde Hedgehog - just one of the many species unique to Alderney.
The benefits of visiting midweek are that the walking paths and wildlife boat tours are less busy, increasing the chances you'll get a special moment with one of our special inhabitants, all to yourself.
Enjoy the island's finest food and drink
Alderney's restaurants are famed for their fresh seafood, amazing local produce and fantastic service. For such a small island we're lucky to have over 20 unique places to enjoy a meal. But they can get full on weekends.
Stunning seafood is a staple in Alderney. Try it for yourself at one of our amazing restaurants.
Midweek visitors are far more likely to get their first choice of restaurant each evening. Booking is still recommended, but if you do find yourself feeling peckish the chances are you'll be able to squeeze in somewhere. 
Feeling hungry? Check out everything Alderney's foodie scene has to offer.
Thinking of booking? Don't think too hard!
With weekend accommodation all but booked-up for the summer season, it won't be long before those weekdays start filling too.
If you're interested in booking a midweek trip to Alderney this summer, you can see all the accommodation options here, book flights here or learn more about getting here by boat. 
See you this summer!
---