Escape the everyday with a wellness weekend in Alderney
Swathed in fresh sea air and surrounded by pristine beaches, Alderney is an idyllic place to relax, reset and recharge.
When to visit
With very little noise, light or air pollution, Alderney is a sanctuary from the hustle and bustle of life, at any time of year. Each season offers a unique and revitalising island experience.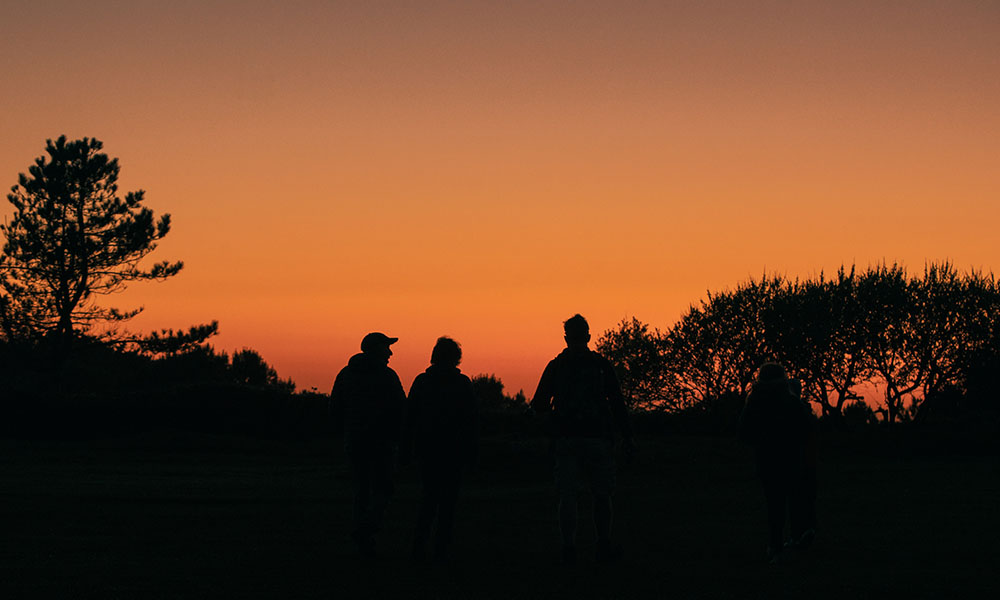 Golden Alderney sunset
Spring
Getting back to nature can have a positive impact on your wellbeing. Spring in Alderney is a nature lover's paradise.
Footpaths are radiant with spring flowers. Hedgerows shimmer with verdant green buds and butterflies. Migratory sea birds return to their coastal homes, and at dusk bats slice through the darkening skies. Prepare to be energised by a vibrant island teeming with life!
Read more about spring in Alderney
Summer
If your idea of a wellness weekend is lying on a beach, soaking up the rays and spending time with a good book, then you'll want to visit in summer. Alderney is one of the sunniest places in the British Isles, and we've so many glorious beaches that it's easy to find a new spot on each day of your stay. Kick back, take a deep breath and feel the warmth on your skin.
Read more about summer in Alderney
Autumn
As the season changes to autumn, tranquillity returns to Alderney. Leaves on the trees turn a hundred shades of orange, and red fiery sunsets provide an uplifting finale to each day. Our crystal clear waters remain warm enough for revitalising dips, and you'll spot all sorts of sea birds dropping in for a rest on their migration south. Take a moment to pause and feel a sense of calm.
Read more about autumn in Alderney
Winter
Winter in Alderney is pure, raw and invigorating! Feel the full force of nature as Atlantic waves crash into our granite shores. The coastal winds blow away all your cares, leaving your skin and mind feeling revitalised. And if the cold creeps in, retire to a fireside seat in one of our many cosy pubs and cafés. 
Read more about winter in Alderney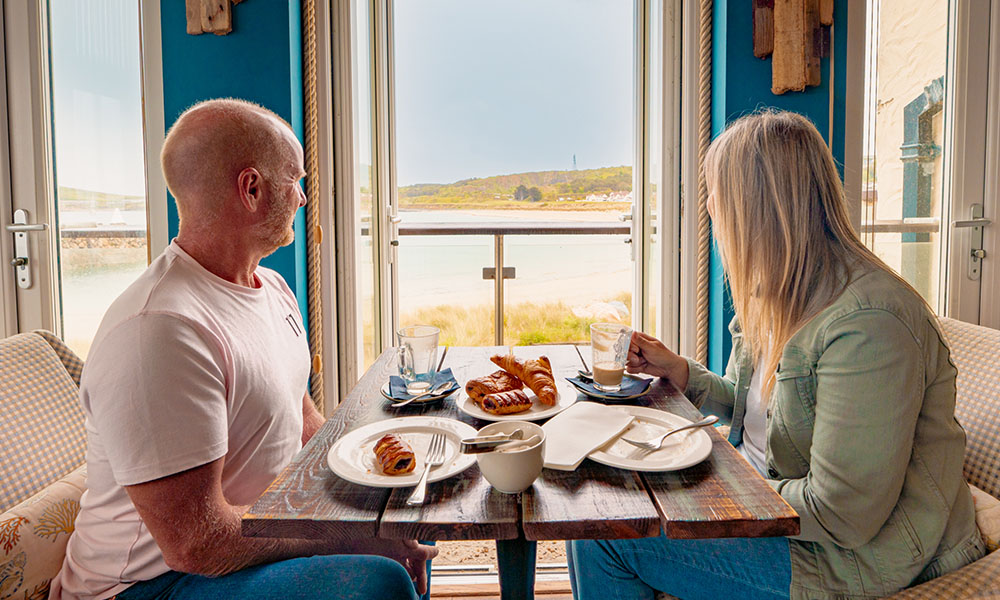 Brunch overlooking Braye beach
Places to eat
Eat well, feel well! And luckily for you, Alderney has an amazing array of cafés and restaurants, serving locally-sourced ingredients of the very highest quality.
As you may expect, seafood is the real star of the show. Plucked fresh from the crystal clear waters that surround Alderney, your lunch has often been caught that very morning. 
Below is a small selection of local restaurants serving wholesome food. You can see all places to eat and drink here. 
The Georgian House
The Georgian House menus are a contemporary mix of 'traditional British pub' and European-style, with a seafood influence. Their seasonal main menu has a small selection of favourites with new seasonal dishes added daily to the specials board.
Braye Beach Brasserie
The Braye Beach Brasserie offers stunning views across Braye Bay. It offers casual dining at a high standard, with classic seaside dishes such as tempura-battered fish & chips or moules marinères and, in season, the freshest and tastiest seafood straight from the nearby fishing port.
Cantina Number 6
Cantina Number 6 has a relaxed and chilled atmosphere with amazing views over Braye Bay. Along with fabulous tapas, handmade pastas and delicious local food, they also offer small plates, big plates and takeaway options, with daily specials on offer.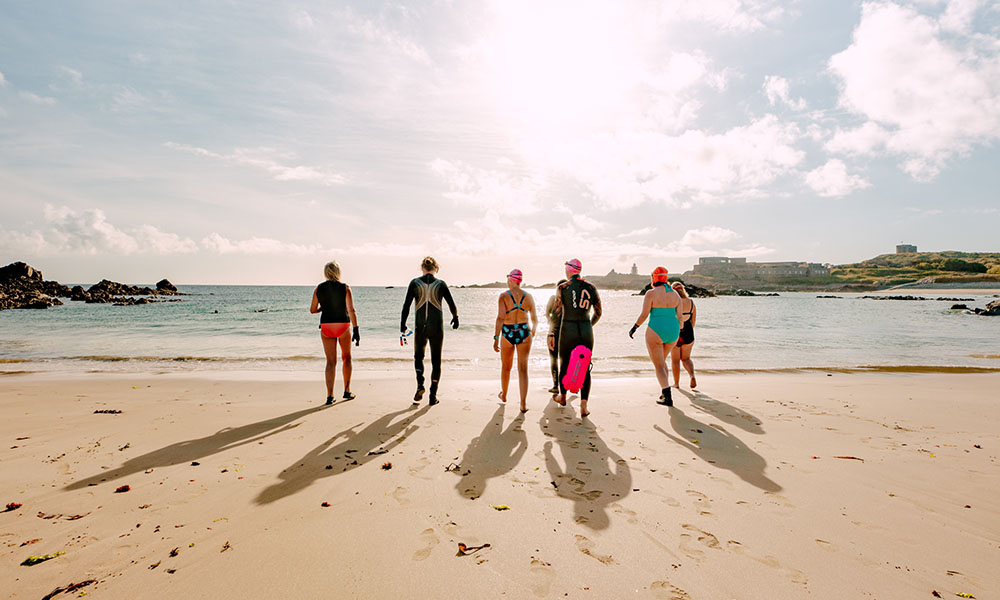 Sea swimmers taking to the water
Things to do
Relax with some yoga 
It wouldn't be a wellness weekend without taking some time to focus on your breathing and holding some yoga poses. 
Our beaches are idyllic with plenty of soft white sand, and it's easy to find a quiet spot to yourself.
If you prefer to practice yoga as part of a group, YogAlderney runs frequent sessions on the beach and at their studio. Mats and equipment are provided so you can cut down on the luggage.
Join a wellbeing walk
Sometimes the key to feeling better is simply to walk it out! Alderney is covered in tranquil walking tracks, with a range of difficulty levels for all abilities.
Every Sunday the wellbeing walk leaves from Braye Common for a half an hour stroll around different parts of the island. The walk is led by two or more trained Health Walk volunteers. It's a great opportunity to meet new people and experience the great outdoors.
Take a swim in the sea
The sea swimming community is one the fastest growing on the island.
The rejuvenating effect of the sea, coupled with the camaraderie of the swimming group, is extremely effective in boosting mental wellbeing. Alderney is blessed with many sheltered spots for sea swimming. If you've not spent much time in the water, maybe now's the time to discover its amazing effect!
Find out about more things to do during a wellness weekend in Alderney
Walkers enjoying one of many trails
Places to stay
For a small island, Alderney has an amazing array of places to stay. Whether your idea of a wellness weekend is getting back to basics or staying in luxurious surroundings, you'll find somewhere to suit you. 
Below are a few unique places to stay, or see all of the island's accommodation options here.
Shrew Nest Annexe
A modern self catering property overlooking Braye Beach and just a five minute walk from the beach. Shrew Nest Annexe is a perfect option if you're visiting alone or as a couple. It has a private garden if you want to keep to yourself.
Sandpiper Cottage
Perfect for small groups of up to five people. Sandpiper Cottage is on a very quiet street in the town of St Anne, and has a relaxing private garden.
Saye Beach Self Catering Camping
A return to the simple life can be a great way to boost your wellbeing. Saye Beach Self Catering Camping is right next to the beach, and has unbelievable views. These fully equipped tents offer camping without the stress of wrestling with tent poles and unruly ground sheets!
The Blonde Hedgehog
At the opposite end of the luxury scale is The Blonde Hedgehog, one of Alderney's only 5 star hotels. Situated on the quiet cobblestoned High Street in the centre of St Anne, this boutique hotel offers absolute luxury with a brilliant restaurant on site. 
You can view all of Alderney's accommodation options here
Ready to book a wellness weekend in Alderney?
This article provides a snapshot of things to do, and places to stay and eat in Alderney. Explore the Visit Alderney website for more invigorating ideas and inspiration for a wellness weekend in our beautiful island.
---